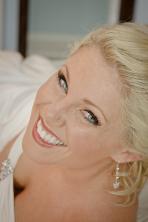 BRIDAL SERVICES
MAKEUP SERVICES
Bridal Trial $50
Full Makeup Application $45
Bridal Application $65
Full Day Makeup Package $250
This package includes a full makeup application the day of the Wedding followed by a touch up for you and your bridal party before the ceremony and photos. It also includes an evening look for the Bride, before you begin dinner and dance the night away!
*** Prices above do not include taxes and discounts are for booked appointments only and do not apply to Gift Certificates or any other Spa Packages.
BRIDAL MAKEUP DETAILS
All Bridal Trials should be completed at least 1 month prior to the wedding date.
To reserve an appointment a signed service contract and 30% deposit will be required upon booking. The remaining balance may be paid on or prior to the wedding date. Personal cheques are not accepted and the deposit is non-refundable.
A minimum of 2 attendants are required for travel
A complimentary application is included for all Flower girls under the age of 12.
A travel expense of $20 will be applied for any appointments outside of the Durham Region
All trials are to be completed in studio at ASTORIA Day Spa, Wedding Day applications can be completed in Studio or at your desired location.
CONGRATULATIONS
Your Wedding Day is going to be one of the most memorable days of your life. It is your chance to transform your self into the Bride you dreamed about being, as a little Girl.
It is important that you feel beautiful and comfortable on your big day and there are a few Beauty Rituals that can help prepare you for your Special Day.
Here are a few Bridal details that I would like to share with you with regards to your Beauty Rituals:
Six months before the wedding begin a facial routine to ensure that you have picture perfect skin for your big day. The facial will address dull complextion, uneven skin tone, sun damage and blemishes.

Stick to a daily cleansing and moisturizing routine.

Adopt a healthy meal plan and drink lots of water.

Continue your facial routine every 6 weeks having your last one 10 day before the wedding.

Six months before the wedding have your brows shaped and continue maintenence every 4 weeks.

Get a makeup truial done at least one month before the Wedding.

Get all waxing done at least 4 days before the Wedding.

The day before the wedding have your manicure and pedicure done.

On your Wedding day eat a healthy breakfast and relax... Let your beauty professionals pamper you and make you gorgeous.
HERE COMES THE BRIDE (Split for Wedding schedule.) $300
Hydrating Sea Facial (at least 2 weeks prior to the Wedding day)

Skin Renewal Body Wrap (at least two weeks before the Wedding day)

Trial Makeup (at least 4 weeks before Wedding day)

Classic Sea Manicure (day before the Wedding)

Classic Sea Pedicure (day before the Wedding)

Eye brow Shape (at least 4 days before Wedding)